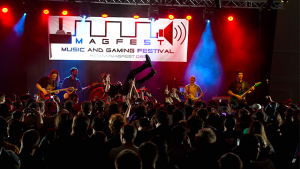 So another MAGFest has come and gone. While I'm always sad to see MAGFest come to a close, I'm always so happy that I went. It's something I look forward to every year, because I always come home so inspired to keep improving in my musical career.
If you don't know about MAGFest, it's basically, well, the best thing in the world. It's a wonderful event that takes place every January in the Washington D.C. area. It's 4 straight days of music, gaming, education, friends, partying, more music, more games, and more everything. And if that doesn't sound awesome to you, then I don't know what you would get excited by. Probably nothing.
I started attending MAGFest in 2014 and haven't stopped going since then. This year at MAGFest, I wanted to particularly focus on 2 things.
Have a successful panel with my audio design colleagues Ben Burnes and Marc Straight.
Promote the hell out of Meet The Light, my Kid Icarus remix album that came out on 12/19/2016.
I can safely say I did both of those things. Myself, Ben and Marc spoke to a full house at our panel.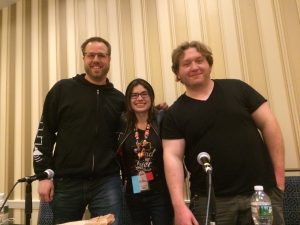 I typically run a panel at every MAGFest on game audio, and this year, the focus was to educate aspiring game audio designers on how they can break into the industry. Myself, Ben and Marc all come from diverse backgrounds, and our styles are all very different- but together, we were able to give the audio designers in the room some good direction. People hung out with us to chat a whole lot after the panel too, which was an honor!
After the panel, I got pretty buzzed and memed all over MAGFest, They don't call me ACMemes for nothin'!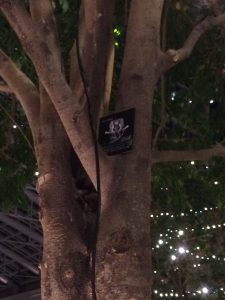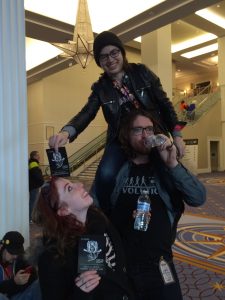 I'm super proud of my album, so I went to MAGFest this year with 500 flyers for it. I primarily wanted to hand it to people and not just leave it lying around, but I thought It was funny to stick it in a few interesting places and take pictures for Twitter. So I spent about 3 hours between 2-5 AM doing that.
Other highlights of MAGFest include:
Running into Jun Senoue while picking up my badge on Wednesday night. We geeked out about guitars together, which was fun. He's a super cool fellow!
Recording the 50th episode of the OC Remix podcast with several other super talented musicians, and having everyone read the blurb from the back of the "Meet The Light" flyer constantly (I swear, memes just keep following me).
Got to talk with Austin Wintory again and attend his awesome panel.
Got to meet the oboist from Abzu. Hopefully I get to work with her in the future!
Dr. Spacezoo, a game I did some SFX (and animal voices) for won Best In Show for the MAGFest Indies section.
Getting to catch up with lots of friends and fellow composers/developers I don't see often.
Anyway, I'm back home now, feeling super creatively recharged and ready to do some work tomorrow. I would love to hear about everyone else's MAGFest experience, so please reach out to me on Twitter (@ACMenes) and tell me what you enjoyed about MAGFest.
Stay tuned for more blog posts, because I plan to write a lot of them this year!