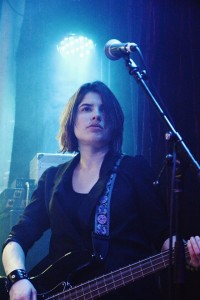 Hi! My name is Alyssa Menes, and I am a composer/sound designer for hire, specializing in game audio.
Welcome to my portfolio page, where you can listen to my work. I am a composer and musician with over 20 years of musical experience. Yes, I'm counting 4th grade concert band.
Fast-forward to 2016, and now I am doing music and sound design for games, mobile apps, films, and more. I specialize in writing symphonic/classical music, rock, and jazz. But no matter what your audio needs are, I am happy to help you out!
I have designed audio for a wide range of games, including PC, XBOX One, mobile, and even for a 30-player experience (in collaboration with the developers of Killer Queen, as part of ESI Design).
Please be sure to check out my portfolio, which features a great deal of music and sound effects.
If you would like to hire me for a project, or take online composition, music theory, or sound design lessons with me, please email me via my contact page. I would love to chat with you! You can also sign up for my mailing list here.
Not only do I create audio for games, I've also run many seminars and classes on the subject. I've spoken about game audio in collaboration with Playcrafting, Game Dev House, and IGDA NJ. In addition, I have spoken at PAX East, East Coast Games Conference, and MAGFest.
As a composer and sound designer, I am committed to helping developers find exactly what they need to make their games sound awesome. I work closely with devs, speak with them, play their games, and actively show my progress as I shape their soundtracks.
I'm also happy to discuss the following subjects: video games, beer, cooking, exercise, coffee, Super Smash Bros 4, and cats.
Thank you! I look forward to working with you!
---
NEW AND COOL STUFF: I was interviewed for KPLU Seattle around the time of PAX Prime. Check it out!
Pixel Prison Blues Gameplay Video, a game created alongside WB games for ESI's platform- I did all of the audio work:
And here's a few featured tracks: