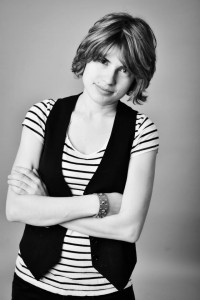 Composer, educator, and multi-instrumentalist Alyssa Cristina "A.C" Menes was born in Passaic, NJ, on August 26th, 1986. She studied Music Theory and Composition at Montclair State University's John J. Cali School of Music, learning composition under the tutelage of professors Dean Drummond and Scott Davenport Richards.
Her compositional influences include Leonard Bernstein, Dmitri Shostakovich, Benjamin Britten, Erik Satie, Guiseppe Verdi, as well as game composers including Hirokazu Tanaka, Yuzo Koshiro, Harumi Fujita, Jake Kaufman, Jason Graves, Junichi Masada, Austin Wintory, Yasunori Mitsuda, and Nobuo Uematsu. She also draws major influence from bands and artists such as The Beatles, The Clash, Broken Bells, Beck, Talking Heads, Nirvana, Stone Temple Pilots, The Black Keys, Alice in Chains, Django Reinhardt, The Eels, Fastball, Raconteurs, The Doors, and many more.
In April 2010, she graduated Cum Laude with her Bachelor of Music. Following her graduation, she founded a music school that taught about 70 students in Essex, Bergen, and Passaic counties in New Jersey. In 2014, she began making the move to pursuing game audio full time.
Being a multi-instrumentalist, Alyssa is proficient at guitar, bass guitar, saxophone, ukulele, mandolin, piano, and voice. She also has some mallet percussion skills.
In 2012, Alyssa wrote the theme and recorded the theme song to Joe Walker's retro games show, The Backlog. She performed all of the guitar and synth parts, while her friend and musical colleague Vito Petruzelli produced and recorded the drum parts for the track. The show and the theme song proved to be a hit among fans.
In 2013, Alyssa began collaborating with the Gamer Symphony Orchestra at the University of Maryland. The ensemble performs arrangements of all sorts of music from video games. Through this collaboration, Alyssa produced arrangements of the music from Kid Icarus, Sam and Max Hit the Road, and Animal Crossing: New Leaf. The Kid Icarus arrangement in particular was praised by the original composer of the music, Hirokazu Tanaka. It was once again performed by the Washington-Metro Gamer Symphony Orchestra during their inaugural Spring 2014 concert.
Besides arranging music for the Gamer Symphony Orchestra at UMD, Alyssa has also formed her own gamer orchestra in the North New Jersey area, the Montclair Gamer Symphony Orchestra. She currently acts as the conductor and music director for the group. The group has performed at A Video Game Con, as well as at Digital Press.
Currently, Alyssa is working in NJ/NYC as a composer and sound designer for video games, VR, film, webseries, and podcasts. Select credits include the score for "Love Is A Game", the closing theme to "Blackwell Epiphany", soundtrack to "Astoria: Fate's Kiss" (Labyrinths of Astoria), music and sound for "Pixel Prison Blues", sound design for "Defragmented", as well as the theme song for the long-running YouTube series, "The Backlog" (featured on Retroware).
She also regularly teaches various seminars on game audio, having taught in NYC, Hoboken, Asbury Park, Baltimore and Boston. This includes collaborations with Playcrafting, a community committed to fostering game development in NYC, Boston, and San Francisco. In addition, she has spoken about game audio at PAX East, PAX Prime, MAGFest, and at the East Coast Games Conference. In 2016, she was featured as a guest lecturer at Bay State College in Boston. She has recently begun working as an adjunct professor at Bloomfield College, teaching courses on sound design for visual media.
In addition to composing and teaching, Alyssa also plays extensively with the North Jersey-based rock band Asphalt Gray, for which she plays bass guitar and sings back-up vocals.