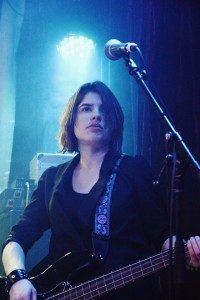 Imagine your game with an awesome custom soundtrack that draws in tons of fans. Imagine getting a surge in viewers on your YouTube channel with custom music that solidifies your brand. If that's what you're looking for, then you've come to the right place.
My name is Alyssa Menes, and I am a composer, specializing in game audio and generally looking badass while playing guitar. I offer audio design and consulting services. I even speak at conferences and conventions such as PAX, East Coast Games Conference, MAGFest, and more. Most of all, I play games. I know what it takes to make your game sound incredible.
Ready to get started on your project? Questions on how to break into game audio? Reach out here.
NEWS:
My music can now be heard on the Amazon App Store!
This January, I got to speak at MAGFest again, this time on two different panels.
Coming up in April 2016, I'll be curating the audio track for East Coast Game Conference. If you work in audio, please check it out and submit a talk!
In December 2016, I released Meet The Light, my tribute to the music of Kid Icarus. Check it out here. I even got to interview with Source Gaming, as well as make a guest appearance on the NinImpactGaming podcast.
In August 2016, I worked on the audio for a short film called Oceans VR: Net Positive– it's been shown at the New York Film Festival, which is super cool.
FEATURED SOUNDS:
---
Designing sound for brands and clients such as:
| | | |
| --- | --- | --- |
| The Economist | WB Games | ESI Design |
| Logitech | Comcast Store | Amazon |
---