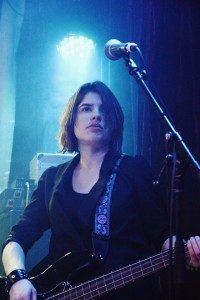 Imagine your game with a kickass custom soundtrack that draws in tons of fans. Imagine getting a surge in viewers on your YouTube channel with custom music that solidifies your brand. If that's what you're looking for, then you've come to the right place.
My name is Alyssa Menes, and I am a composer, specializing in game audio and generally looking badass while playing guitar. You're probably here to listen to my audio, so look below and you'll find some of that. If you click on things around here, you'll find more audio, and even nifty blog posts all about breaking into the games industry. It's a pretty neat website.
Ready to get started? Chat with me about your project here.
NEWS:
I just released Meet The Light, my tribute to the music of Kid Icarus. Check it out here. I even got to interview with Source Gaming, as well as make a guest appearance on the NinImpactGaming podcast.
Earlier this year, I worked on the audio for a short film called Oceans VR: Net Positive– it's been shown at the New York Film Festival, which is super cool.
FEATURED SOUNDS:
---
Designing sound for brands and clients such as:
| | | |
| --- | --- | --- |
| The Economist | WB Games | ESI Design |
| Logitech | Comcast Store | Voltage Entertainment USA |
---