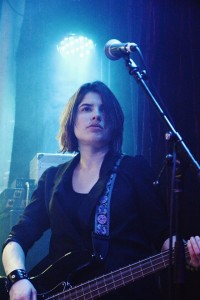 Hi! My name is Alyssa Menes, and I am a composer/sound designer for hire, specializing in game audio and generally looking badass while playing bass. You're probably here to listen to my audio, so look below and you'll find some of that. If you click on things around here, you'll find more audio, and even nifty blog posts all about breaking into the games industry. It's a pretty neat website.
Sign up for my mailing list to keep up with what I'm doing! I'll be sure to pack it with lots of handy blog posts, insights, and tips. And of course, lots of music.
NEWS:
I just released Meet The Light, my tribute to the music of Kid Icarus. Check it out here. I even got to interview with Source Gaming, as well as make a guest appearance on the NinImpactGaming podcast.
Earlier this year, I worked on the audio for a short film called Oceans VR: Net Positive– it's been shown at the New York Film Festival, which is super cool.
FEATURED SOUNDS:
---
Need audio for your game/VR project/app/animation/movie? Chat with me about your project here.
---
Designing sound for brands and clients such as:
| | | |
| --- | --- | --- |
| The Economist | WB Games | ESI Design |
| Logitech | Comcast Store | Voltage Entertainment USA |
---
Testimonials
"Alyssa brought incredible professionalism and talent to her role in our latest project. As an independent developer, funds are our most valuable asset, and Alyssa's services were well worth the investment. She delivered excellent work and we would be happy to collaborate with her any time." -James Johnston, Glass Knuckle Games
"Alyssa is an absolute joy to work with – she's creative, friendly and confident and is always willing to put in the work to make sure she's delivering exactly what you want. She does it all while being just as excited for the finished product as you are, which really makes the entire work relationship fun." -Joe Walker, Creator of the Backlog and the SpaceKappa gaming channel on Youtube
"Since I didn't really a clue about what the background music should even be [for Dumb Dojo], Alyssa was able to find a whole new angle to our game and figure out what it needed. The music added a ton more to the overall feel of the game and was definitely worth every penny!" -Carson Stacy, GhostWhale
"Alyssa's is a great sound designer and musician to work with.  She's quick yet thorough and is open to suggestion and changes.  I know that I can always count on Alyssa for my sound design needs." -Matthew DeLucas, Mattrified Games